(English below)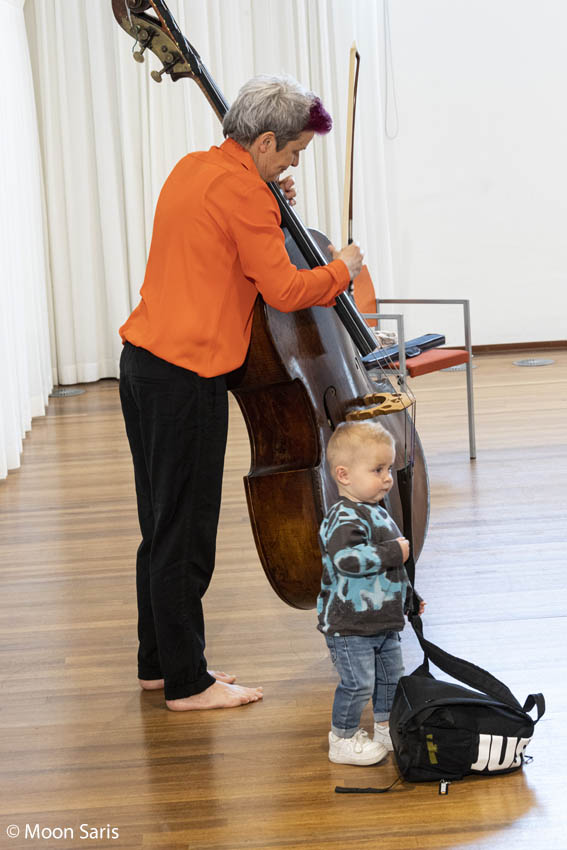 festival 2turvenhoog 2022, Almere | ©photos by Moon Saris
Hoe maken we samen stilte en wat kunnen we beleven als het stil is?
Wat gebeurt er allemaal in wat we stilte noemen? Hoe stil kunnen we het samen maken? Luisteren we anders als het stil is? Stilte als aandacht en manier van samenzijn. Een stille ruimte die niet eng of donker is, maar open en uitnodigend, die nieuwsgierig maakt en levendig en misschien wel magisch is. In z a c h t j e s spelen danseres Lily Kiara en contrabassist Rozemarie Heggen samen met het publiek, peuters en verzorgers, hoe zij sámen stilte kunnen maken.
Bij 2turvenhoog maakte ik eerder de solo proeve 'Speelwoord' en de voorstelling 'Stil (Oewaaa)' met trompettist Felicity Provan. Voor z a c h t j e s ben ik met 2turvenhoog begonnen in Den Haag en Almere bij Jong Beginnen en in Potsdam op de Potsdamer Tanztage. Om dit werk verder te ontwikkelen ben ik in 2022 in residentie bij 2turvenhoog. Als onderdeel van deze residentie schrijf ik over mijn werk met stilte voor en met peuters en over het proces tot nu toe.
Ik heb lange tijd alleen gewerkt en ben benieuwd hoe het nu, vanuit een verdiepte stilte is om weer met een muzikant samen te spelen. Rozemarie Heggen speelt contrabas. In de residentie werk ik soms alleen en soms met Rozemarie. Ik wilde graag met haar werken omdat ik in haar muziek ook altijd de aanwezigheid van stilte hoor en voel. Hoe stil kunnen wij samen zijn en wat kunnen we samen met de kinderen maken en ook samen met hun verzorgers of pedagogisch medewerkers, zoals in de peuterspeelzalen? Kunnen we ze door af en toe muziek te maken juist beter meenemen de stilte in? Of misschien niet en leidt het af? Of vraagt de grote contrabas veel aandacht als indrukwekkend instrument? Is de stilte anders als ik alleen met de kinderen speel of wanneer ik samen ben met Rozemarie? Is de stilte misschien sterker als we samen zijn?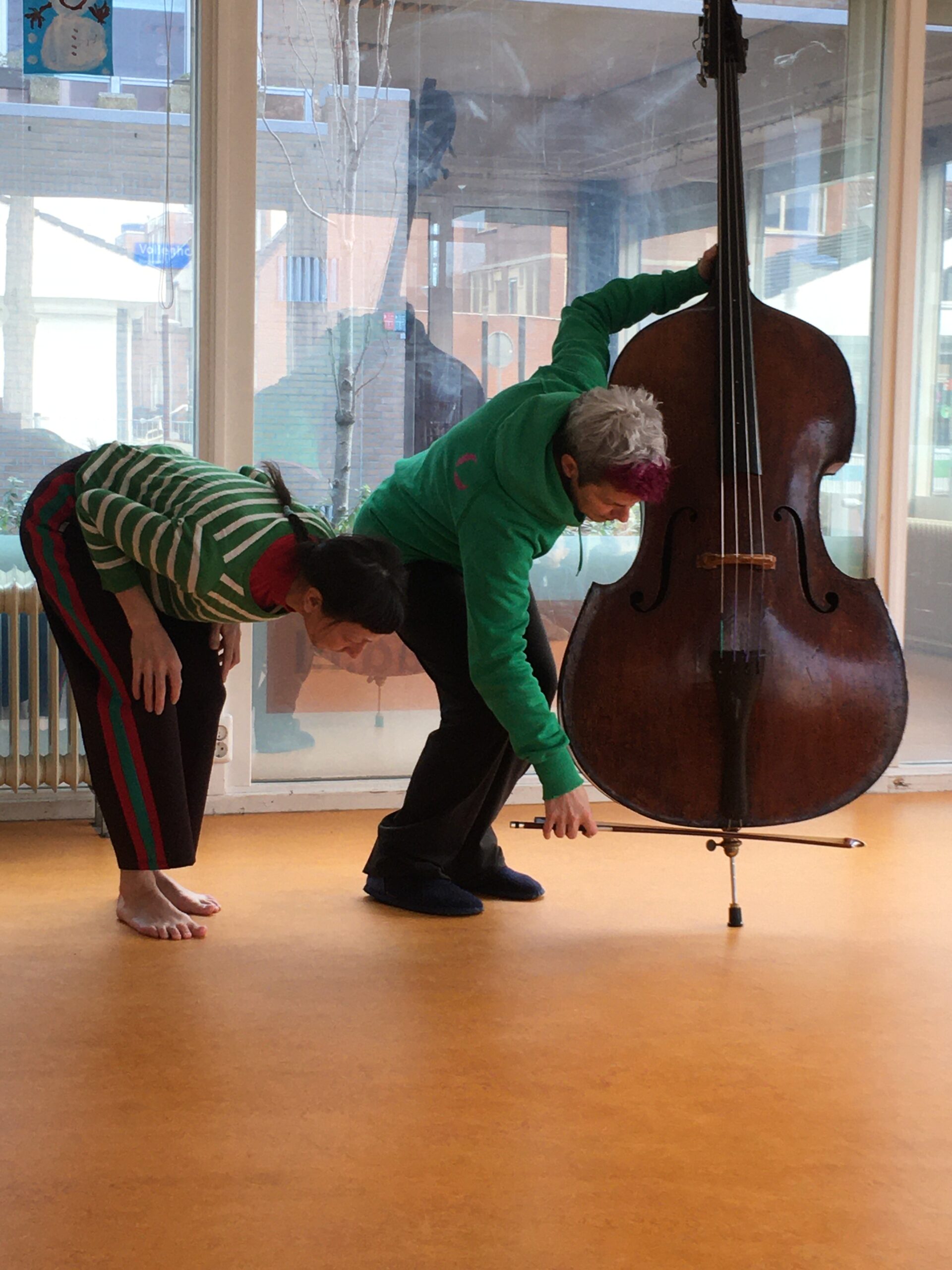 English
How can we make silence together? What can we experience when it is quiet? Do we listen differently when it is quiet? Silence as attention and way of being together. A quiet space that's not scary or dark, but open and inviting, that is curious and alive and perhaps magical. In s o f t l y dancer Lily Kiara and double bass player Rozemarie Heggen play with the audience, toddlers and caregivers, to find how they can create silence together.
Earlier with support of 2turvenhoog, i had a chance to have a first taste of performing for and with toddlers for the first time in solo work 'word play' and the performance 'Still (Oewaaa)' with trumpeter Felicity Provan. For ' s o f t l y ' i started solo with 2turvenhoog in The Hague and Almere and in Potsdam at Potsdamer Tanztage. To develop this work further i've been in residency at 2turvenhoog in 2022. As part of this residency I write about my work with stillness for and with toddlers and my process so far.
I've worked alone for a long time in this project and and am now curious how it is to play together with a musician, from a deepened stillness . Rozemarie Heggen plays double bass. In the residency I sometimes work alone and sometimes with Rozemarie. I wished to work with her because in her music I also always hear and feel the presence of stillness. Is the silence different when I play alone with the children or when I am together with Rosemarie? Is the silence perhaps stronger when we are together?